Creative Entertainment

*Featuring Yoyo the Clown*

61, Jalan USJ 11/1 G Subang Jaya
Selangor D.E. Malaysia
Tel: 03-5632 4659
Fax: 03-5631 7307
                          Mobile: 019-2288121
                Email: Bobby Yeo  
                                    
---
If you are thinking of having a party and would like professional help in organizing the party, please call us at Creative Entertainment. We have years of experience catering to private and corporate parties. We are a family-owned business and all services are performed to your satisfaction. We also supply to clowns and magicians in Genting Highlands for over 7 years now. Call or email us today for more detailed information.

****BOBBY WILL BE APPEARING EVERY SATURDAY AND SUNDAY AT THE MARRIOT PUTRAJAYA HOTEL FOR HIGH TEA.**** ***BOBBY WILL ALSO BE PERFORMING FOR THE MEMBERS OF THE ROYAL FAMILY OF BRUNEI. THIS WILL BE HIS THIRD APPEARANCE WITH THE ROYAL FAMILY.***


[ About Bobby ] [ Photo Gallery ]
Services :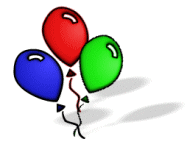 Dance Show, Balloons, Balloon Sculpturing, Clowns, Jesters, Clown/Jester Appearance, Santa Claus, Costume Rentals, Stilt-Walkers. Click on balloon icon to see the photos of parties we've entertained in.
   Flowers for all occasions. Please call for more information.   

Food catering -- Specialize in Indian, Chinese and Malay cuisine. Please call for more info.
 Rental of Canopies, tents, tables and chairs. Please call for more info     
[ Sign Our Guest Book ]
[ View Guest Book ]
Please feel free to sign our guest book. We appreciate any comments you would like to share with us and others. Thanks for visiting our web site. Please keep us in mind when you're organizing a party or know of someone who needs help with their party planning, in the KL area.

Free search engine submission and placement services!